Unique pedagogical view
The pedagogical vision of Kids and Carrots is inspired by the principles of leading pedagogues Emmi Pikler, Thomas Gordon and by the Reggio Emilia pedagogy of Loris Malaguzzi. These visions run like a thread through this pedagogical policy plan and have been used as a source of inspiration. From these methods, Kids and Carrots has described a unique, stand-alone vision.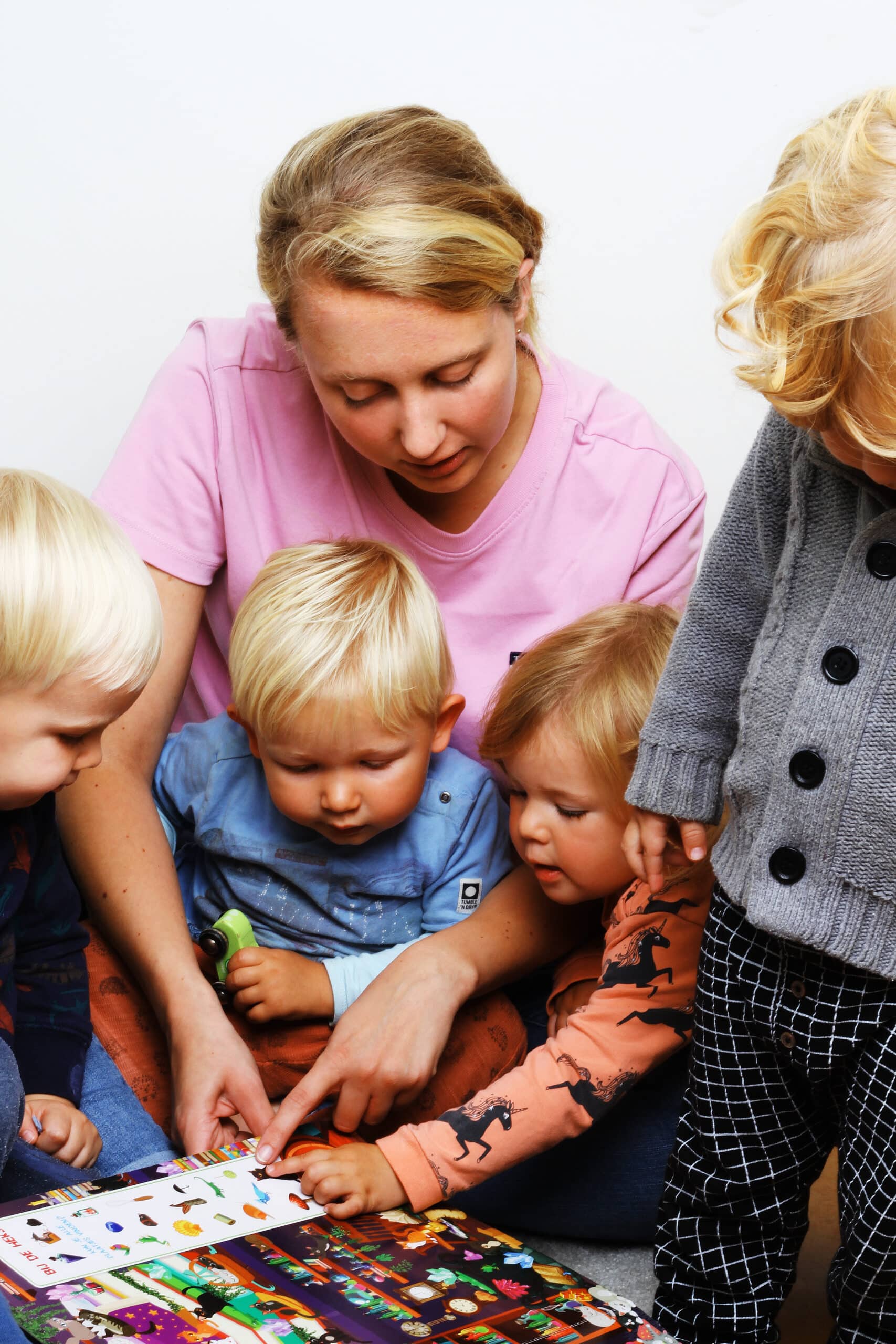 Room to explore
Kids and Carrots' pedagogical vision is inspired by the principles of leading educators Emmi Pikler, Thomas Gordon and by Loris Maluzzi's Reggio Emilia pedagogy. These visions run like a thread through this pedagogical policy plan and have been used as a source of inspiration. From these methods, Kids and Carrots has described a unique, self-contained vision.
Children are born with the natural desire to communicate, feel, learn and develop themselves. They are naturally eager to learn and interested in the environment. Children can express themselves in a hundred ways and in a hundred languages. It is up to us to understand that. Children mainly communicate with body language, young children cannot yet express themselves in spoken or written language, but can do so through dance, music, drawing, clay, movement or sound. We literally and figuratively offer the children the space to explore, wonder, experiment, communicate and learn, with the result that they become increasingly independent. We communicate at child height (eye level). As children can best read a facial expression, they feel heard and this creates more confidence.
Areas of development
Children are born with many talents and are strong, powerful and creative of their own accord. Every child has his or her own ideas, thoughts and feelings; every child is unique. Children are little researchers, inquisitive and curious and have their own pace of development. It is important that every child can and is allowed to be him/herself and that emotions can be recognised and experienced. We can only get to know, understand and guide children by really looking and listening to them. In this way, we can directly respond to their needs and interests.
Involvement, respect and love are central in our contact with the children. The children are approached in a positive, open and calm manner, and receive undivided attention from the pedagogical staff. The pedagogical staff members are there to offer the children a challenging environment and follow their needs, making them feel safe and secure and creating a strong pedagogical climate. The pedagogical staff offer the children new activities every day, to stimulate the various developmental areas. We have developed a special development programme for children from the age of 3. With this programme, children playfully learn numbers, letters, art, culture, the English language and more.
Smaller groups
Small groups of children are accommodated in homely group rooms. The baby groups (0-2 years) accommodate a maximum of six babies aged 0 years and a maximum of six toddlers aged 1 to 2 years. A maximum of eleven children are cared for at the toddler groups. We have deliberately opted for small groups of children, so that all the children literally and figuratively have the space they need to grow and develop. This also allows for plenty of time and attention for the individual child, development-oriented activities and excursions.
Going outside
We go outside every day with the children who can walk. The fresh air is pleasant for the children and they can get plenty of exercise. Even when it rains we play outside. We put on rain boots and go pounding in the puddles. The babies also go outside as much as possible and can play quietly in the separate baby garden. Regular visits are made to the library or the children's farm.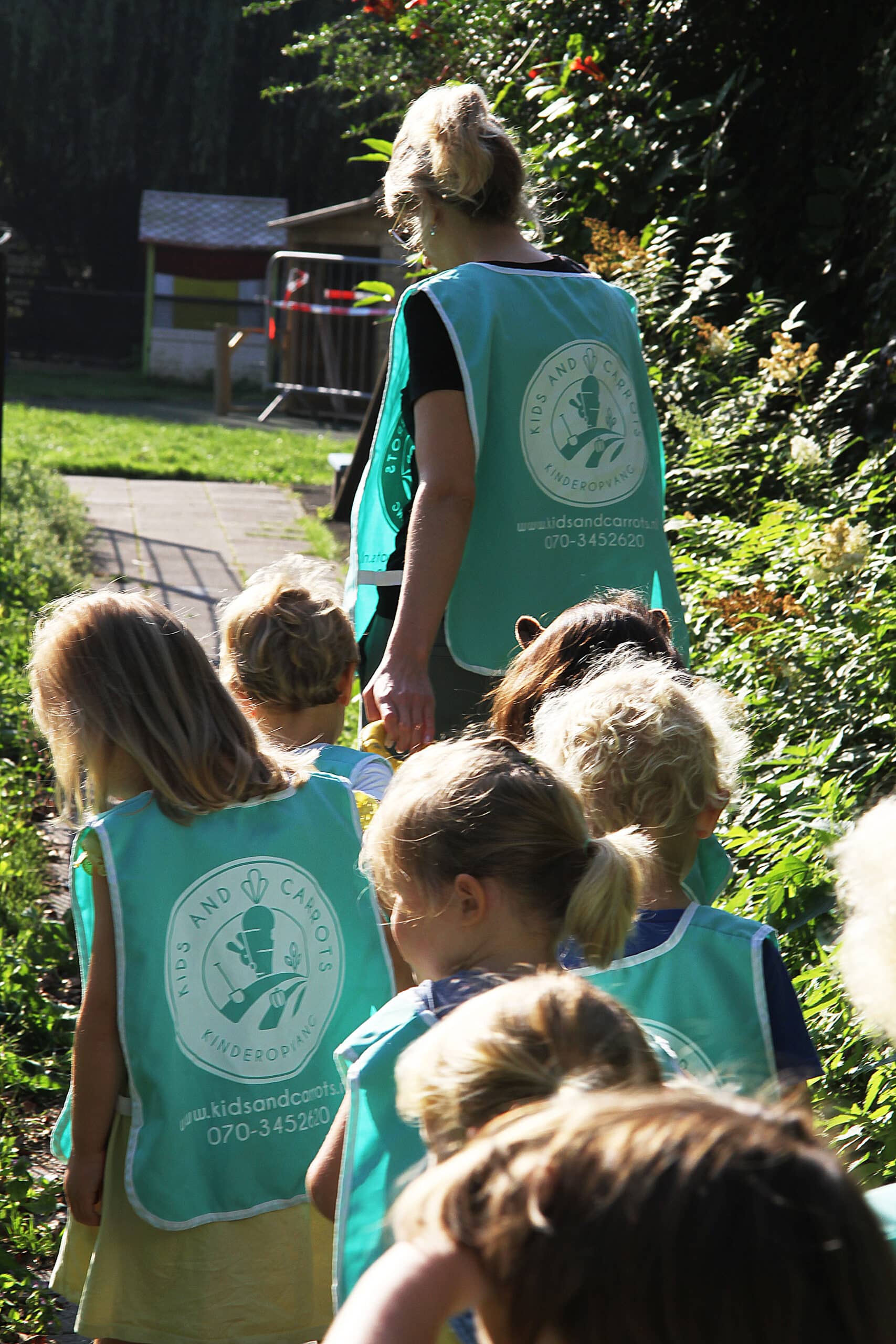 Healthy organic food
Responsible and organic food is an important part of the Kids and Carrots philosophy. A child with a healthy body can develop better on a cognitive, social and emotional level. All food provided at Kids and Carrots is organic and free from refined sugars, salt and additives. Every day, a home-made, hot lunch is served with a minimum of three types of vegetables, supplemented with e.g. quinoa, pasta, sweet potato, bulgur and fish or a meat substitute. Read more about the organic food we prepare.
The full way in which our vision is put into practice is described in pedagogical work plans. The pedagogic employees work according to these plans and therefore know exactly how they should act in a certain situation. Curious about our complete pedagogic policy plan? If desired you can receive our complete pedagogic policy plan.
Large range of activities
In addition to the extensive range of activities designed by the pedagogical staff, we work with permanent teachers who come to the groups every week to offer workshops. We work together with teachers in the field of dance, yoga, visual arts, mindfulness (from 3 years of age) and music who come to the groups every week on different days.