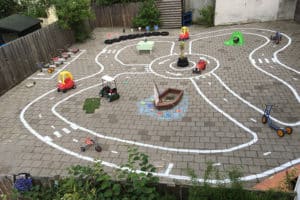 Playing outside every day
At Kids and Carrots we play outside every day, so the garden is an important part of all locations. The gardens have been carefully decorated while retaining natural elements. The interior strives for a nice balance between free play space and challenging play elements. Elements that you can encounter in our gardens are; playhouses, a picnic area, a traffic square, an outside studio, a baby garden, a play hill with slide and a sandbox. The elements of nature are often favorites in our gardens, which is why water and sand play a major role. The water track and/or tables stand for hours of fun. The maintenance and maintenance of the vegetable gardens is a regularly recurring outdoor activity. The pedagogical staff also organize various activities outside, such as looking for worms or leaves, slaloms, canning and sand drawing.
The library, the petting zoo and a city park are visited regularly. Kids and Carrots finds it important that the children are challenged in discovering and learning new things. For this reason, special trips are organized several times a year with the toddler and toddler plus groups, for example a visit to the fire brigade, Avonturia animal park, the beach or a theater performance.