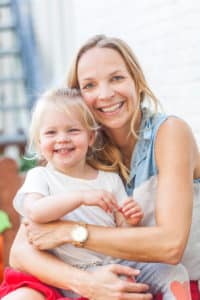 Jantine van Arkel, founder 
Jantine van Arkel grew up in a real entrepreneurial family. When Jantine became mother of Bo (April 2013), she studied the various childcare locations in The Hague. It then became really clear to her how important it is that you can feel good about leaving your child at the daycare. More and more questions came to her mind, such as; "What do the children eat at the daycare?", "How many children are there in a group?" and "What do the children do on any given day? " Jantine did not agree with the prevailing policies in these areas.
When a building on the Veenkade in The Hague became available not long afterwards (2014), this seemed a stroke of destiny. The perfect opportunity for Jantine to shape her progressive ideas about perfect childcare. Healthy food, small groups, personal attention, many extra activities and, as the icing on the cake, a "private" petting zoo in the backyard.
By now it is clear that Jantine was not the only parent with these preferences. Long waiting lists rapidly developed at Kids and Carrots, and the company now consists of five locations, one of which operates under the name Beach Kids. The nurseries can be called extremely professional, while remaining small-scale.

Mission Kids and Carrots wants to offer children a warm and homely environment, where every child feels safe and gets the love and attention it deserves. Healthy food, small groups of children and playing outside every day are indispensable concepts for us. In close cooperation with the employees and parents of Kids and Carrots, we realize a pedagogical climate that serves as a strong basis for the further development of the child.
Imiddels is duidelijk dat Jantine niet de enige ouder bleek met deze voorkeuren. In korte tijd ontstonden er lange wachtlijsten bij Kids and Carrots en inmiddels bestaat het bedrijf uit vijf vestigingen, waarvan één locatie onder de naam Beach Kids. De kinderdagverblijven zijn uiterst professioneel te noemen, zonder dat het bedrijf zijn kleinschaligheid heeft verloren.
Missie
Kids and Carrots wil kinderen een warme en huiselijke omgeving bieden, waar ieder kind zich veilig voelt en de liefde en aandacht krijgt die het verdient. Gezonde voeding, kleine groepen kinderen en ieder dag buiten spelen zijn voor ons onmisbare begrippen. In nauwe samenwerking met de medewerkers en ouders van Kids and Carrots realiseren wij een pedagogisch klimaat welke als een sterke basis dient voor de verdere onwikkeling van het kind.